Luxury Swimming Pool Installation in Dubai
At Alkhail Swimming Pools, we believe that luxury Swimming Pool Installation is the ultimate realization of your imagination. As a young and exciting company in the UAE, we take pride in our talent and creativity for design. Additionally, our ability to bring your dream pool to life, no matter your budget or lifestyle. 
Our team of highly skilled professionals uses the latest technology in the Swimming Pool Construction field to create exceptional pools, spas, and landscapes that exceed your expectations. We can incorporate a range of special features, including skimmer pools, overflow pools, infinity edge pools, waterfalls, water features, in-ground spas, and more. 
Each pool we install is unique and tailored to your specific preferences. Ensuring that your pool becomes a personalized space of relaxation and enjoyment for you and your family.
Cost-Effective and Hassle-Free Pool Installation in Dubai
Installing a pool in your lawn or backyard is a significant decision, and we understand the high expectations you have for your dream pool. As one of the top swimming pool builders and Pool Maintenance in Dubai, Alkhail Pools is dedicated to turning your vision into reality. 
Our commitment to quality craftsmanship and attention to detail ensures that each pool we install is not only visually stunning but also built to stand the test of time. Whether you desire a luxurious infinity pool or a serene space with water features, we are your best choice for Swimming Pool Installation Dubai. 
Our team's expertise, dedication to quality, and commitment to customer satisfaction guarantee a pool that will exceed your expectations and enhance the beauty of your home. We aim to provide cost-effective and customized Swimming Pool Installation Dubai services. Moreover, believe that having a swimming pool in your backyard should be a source of joy and relaxation, not a financial burden.
Cost For Various Patterns of Swimming Pool Installation in Dubai
Planning a house can be a tiresome process, considering both the small and big aspects. In Dubai, the latest trend is to have an Indoor Swimming Pool installation. A well-designed swimming pool serves multiple purposes, offering the enjoyment of pool parties and relaxation on your off days. As the demand for swimming pool installations has increased, so has the variety of design features available.
Once you've decided on the design, the next consideration is whether you prefer an above-ground or in-ground swimming pool installation. The cost of installation is separate from the pool's overall cost. As a Swimming Pool Landscaping and installation company, we offer both swimming pool installation options. However, the final decision always rests with you. Our aim is to provide you with the best solution that fits your preferences and budget.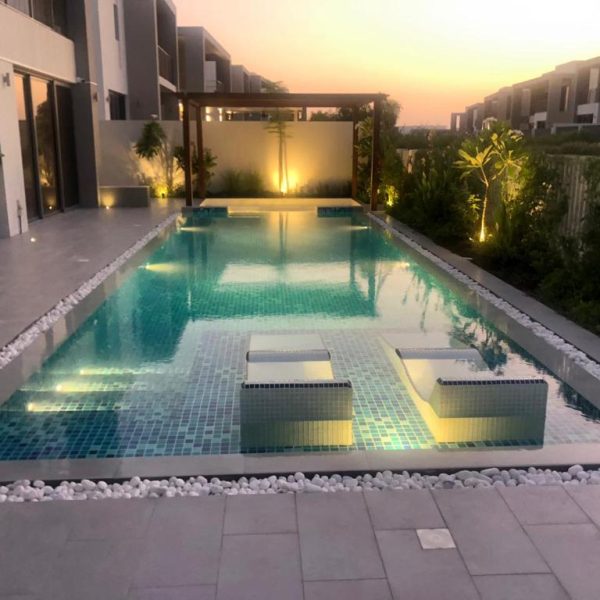 Professional Swimming Pool Builders Dubai
Alkhail Pools is one of top Swimming Pool Builders Dubai. We provide high-quality swimming pool services such as pool design, construction, cleaning, maintenance and Pool Installation Dubai. When it comes to safety, Alkhail Pools always takes the utmost care. We include all the required standard safety precautions for your swimming pool.
We are Indoor Swimming Pool Builders helping to install indoor and outdoor home pools for family recreation. Furthermore, we also design landscaping pools in your garden in Dubai to improve the look and feel of your villa landscape in Dubai. A landscape pool immediately improves the attractiveness of the space.
Alkhail Pool Builders Dubai also develops and builds all other types of pools, including dive pools and Olympic-sized pools. When it comes to swimming pool construction, we are unrivalled in Dubai and the UAE. And it is for this reason that we are the top swimming Pool Builders in Dubai.
Why Choose Us for Swimming Pool Construction in Dubai?
Our skilled team of Swimming Pool Builders Dubai has extensive knowledge and a high level of inventiveness. 

We can read what our customers desire and provide our creative ideas on top of it while keeping our client's requirements as the foundation. 

Our Pool Installation Dubai is constantly focused on excellent quality and customer happiness. 

We always feel that our consumers are our finest ambassadors and that we deliver on our promises. As a result, we provide customers with the most cost-effective swimming

Pool Construction

without sacrificing quality.
Dubai's Best Swimming Pool Company
Alkhail Pool is proud to declare that we are the best swimming pool company in Dubai. We constantly value our customers and prioritize them. We design and develop according to their vision, and as a result of our dedication, we have become the top swimming pool design company in Dubai.
Aside from landscaping, the major thing we do at Alkhail Pool is swimming pool building and design. Swimming pools improve the overall appearance of a home or villa. Not only that, but unlike any other feature, a swimming pool can significantly improve the value of your property.
Let's Bring Nature Into Your Lovely House